Streetlight Cadence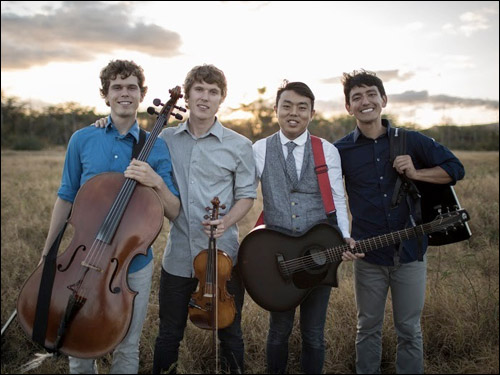 Streetlight Cadence is a four member acoustic ensemble comprised of Jonathon Franklin (violin and vocals), Brian Webb (cello and backup vocals), Jesse Shiroma (accordion, percussion, and backup vocals), and Chaz Umamoto (guitar and harmony vocals). Often labeled as indie, folk, or alternative, the band draws inspiration from many genres. They perform both originals and covers ranging from pop to classical and have often been described as a synthesis between Mumford & Sons and The Killers.
Created under the streetlights of Waikiki; Streetlight Cadence started as nothing more than a hopeful dream of earning a few dollars on the sidewalks to pay for groceries and has now grown into a band with an international fan base. From the streets to the stage, the band continues to thrive through friends, fans, a passion for music, and a bit of wild luck.
You can find them regularly at Honolulu's Hard Rock Cafe, or still claiming their roots on the sidewalks of Waikiki and Chinatown. Awards include being winners of The Republik's Bacardi Oakheart Iron Battle of the Bands 2013, winners of the 2014 Honolulu Hard Rock Rising Battle of the Bands, and being 15th place global finalists in the 2014 Global Hard Rock Rising Battle of the Bands.
Streetlight Cadence will take the stage at 1:30pm. Click here for a complete schedule.