Participating Celebrities & Chefs (2012)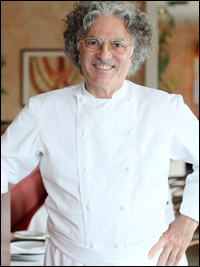 Chef George Mavrothalassitis (Chef Mavro)
George Mavrothalassitis, chef/proprietor of Chef Mavro restaurant is a founding member of Hawaii Regional Cuisine (HRC) and a James Beard award-winner. Born in the sunny Mediterranean city of Marseilles in Provence, Mavro has set deep roots in Hawaii over the last 23 years embracing the people and taking inspiration from their diverse culinary traditions. He has consistently partnered with local farmers and fishermen to offer menus dedicated to regional products from baby greens and tomatoes to vanilla and lavender. Chef Mavro is the only independently owned restaurant in Hawaii to earn the American Automobile Association (AAA) Five Diamond status (2009, 2010 and 2011), as well as the only Hawaii restaurant with Three Toques (an 18/20 rating) and on the 2011 Gayot "Top 40 Restaurants in the U.S." Mavro won "Chef's Choice" based on a vote of his peers in the most recent Hale `Aina Awards.
Chef Mavro is paired up with Hawaii News Now's
Stephanie Lum & Shawn Ching for the
1st Celebrity/Chef Cooking Demo at 12:15pm
Stephanie Lum (Hawaii News Now)
Stephanie Lum attended Seattle University and did newsroom internships in Washington State and Hawaii, before getting a taste of real world journalism in Guam, where she covered her first major story. Uncovering health hazards at a popular restaurant, she earned her first professional news award – "Best Spot News" as a result of the exclusive investigative report. After two years in Guam, she came back home to work at KGMB 9 News and in 2001, moved to KHNL and K-FIVE. Stephanie's reporting in Hawaii earned her three more awards for "Best General News Story", "Best Series Reporting" and "Best Feature Story". In her spare time, she enjoys training and competing in marathons and triathlons.
Shawn Ching (Hawaii News Now)
Shawn Ching is a news veteran of of thirteen years, with experience behind the anchor desk, as a sports director, and even color commentary for the University of Hawaii and Hawaii high school football games. In addition to holding a law degree from the University of Hawaii at Manoa, Shawn also has a Master's degree and a Bachelor of Arts degree in Political Science. He is a member of the St. Francis School Board, the Oahu Interscholastic Athletic Association Board and the UH Athletic Advisory Board.

---

Chef Grant Kawasaki (Hanapaa Sushi Company)
Born and raised in Honolulu Hawaii, Chef Grant Kawasaki grew up always having a love for food. He started his culinary journey during college, cooking healthy alternative dishes for his grandmother who had an insulin dependant diabetic condition. Eventually, Grant started a small catering business for small exclusive private parties and then, found the urge to get into retail food service. Grant has apprenticed with many top chefs and restaurants to develop his own signature style. Grant has had featured his culinary talents in several restaurant hotspots prior to his current foodservice activities. Grant is also the entertaining host of two of OC16's most popular and highly rated shows, Hawaiian Grown TV & Hawaiian Grown Kitchen.
Grant Kawasaki is paired up with KHON2's Justin Cruz for the
2nd Celebrity/Chef Cooking Demo at 3pm
Justin Cruz (KHON)
Justin Cruz grew up in the western Pacific island of Guam where and worked for the family business before moving to Honolulu. His childhood included numerous leadership and rank awards in the Boy Scouts, recognition as one of the youngest PADI-certified, open-water divers in America at the age of twelve, and the youngest on-air radio personality at seventeen. In 1996, he attended the University of Hawaii and was offered a slot on a weekend radio show shortly after, which led to a decade-long career with KQMQ as program director and morning show radio host. In 2006, Justin joined KHON2 News to anchor weather reports on the 5, 6 and 10 p.m. newscasts. During his spare time, Justin enjoys traveling, eating at the many delicious restaurants in Hawaii and consuming TV documentaries. He volunteers as a board member of Lupus Hawaii and Prevent Child Abuse Hawaii, is a recurring cast member of the local Gridiron Show, and is a recipient of Pacific Business News' "Forty Under 40" Award. Justin is also a professional Master of Ceremonies and a small business owner.