Heart & Soul Featuring Hawaii's Human Beatbox Jason Tom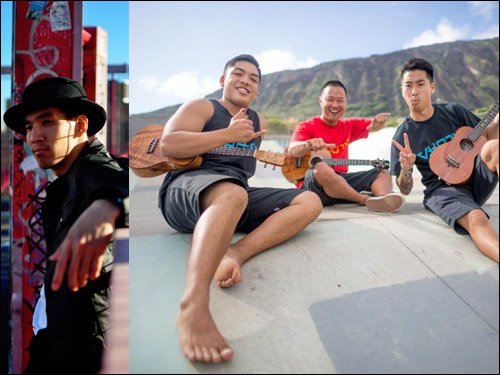 Heart & Soul is the dynamic `ukulele trio of Jody Kamisato, Micah Ganiron and TJ Mayeshiro. Together they represent a new breed of music fusing island sounds with a contemporary edge.
Currently Heart & Soul is performing twice a week at Disney's Aulani Resort and Spa on Oahu. They are the featured act in the Starlight Hui show and will be taking their music internationally as they set foot on a Japan Tour this fall.
Jason Tom is an award-winning Chinese American beatboxer based in Honolulu, Hawaii who has opened for the likes of Michael Winslow, Blue Scholars, Quest Crew, the JabbaWockeez, and Jake Shimabukuro (TEDxHonolulu). As a beatboxer, Tom was also a First Thursdays' Hawaii Slam 2012 Grand Poetry Slam Finalist.
Jason is the recipient of the "Best Solo Performer" 2011 Hawaii Scene Choice Award, recipient of the TEDxHonolulu 2011 Presenter Award, is featured on a 2010 Na Hoku Hanohano Award (Hawaii's Grammy Awards) nominated hip-hop/r&b album, and was voted "Best Local Musician Deserving of a Wider Audience" in Best of Honolulu Weekly 2009. He has been featured on the "Music With A Message" school tour, the "Say Yes To Purpose" school tour, the "American Beatboxer" film, TEDx Talks, RAW Artists, Examiner.com, Beatbox Battle TV, Humanbeatbox.com, BeatboxSpot, Island Scene Magazine, Honolulu Weekly, Honolulu Pulse, Chinatown Newspaper, Shaka Talk, KITV4, and more.
Heart & Soul and Jason Tom will take the stage at 2pm. Click here for a complete schedule.